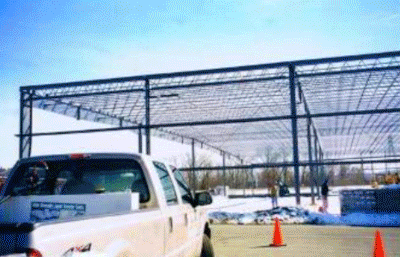 History:
G. Webster, Inc.
started as Webster and Sons, a family run business, established in 1965, and run by Paul Webster and his five sons. In 1994, Gary Webster continued this family tradition and became
G. Webster, Inc.
Key Points to Consider:


Pre-engineered NUCOR metal buildings. - we are able to design, modify and price buildings in our office.


We assist with the design build concept to expedite the construction process.


Our own crews perform all construction, including concrete walls, concrete floors, metal building erection, and all carpentry work.


NUCOR is the largest metal building company in the United States.


G. Webster is a local contractor able to serve you better in Bradford County Pa.


We have constructed and renovated buildings over 86,000 ft.

Philosophy: The client satisfaction has always been the driving force that determines how things get done at G. Webster, Inc.
Relationships: At G. Webster, Inc., we believe these are key. It is important to us to establish a relationship with you as communication is necessary to assure the best building experience possible.
Experience: Our outstanding craftsmen have no less than 20 years of experience each, and combined, have over 250 years of experience. It is a second generation business with over 35 years of professional experience and satisfied customers from design to completion in the Bradford County of PA and the Finger Lakes Region of NY.
G. Webster Inc. can offer you benefits that other companies cannot offer. We are a local contractor, here during and after the construction project. We have the ability to assist in expediting the building process with our extensive software from NUCOR to design and price the project in our office within hours. We use local sub-contractor and suppliers for quick turnaround time for pricing and deliver, as well as, control of the project. We are a full service construction company with 80% of the project completed with our own crews; concrete walls, concrete floors, steel erection and all carpentry work. The complete steel project is manufactured by NUCOR Manufacturing. We are able to complete very large projects within tight time schedules as well as maintain strong safety procedures.
Over 80% of new work comes from repeat customers or referrals. Some of these customers include: Simmons Rockwell, Pepsi, Williams Toyota, Dandy Mini-Mart, Guthrie Health-care, Stroehmann Bakeries and many more.
We have been a Pre-engineered Steel builder for over 15 years and have completed over 8 million dollars of projects.